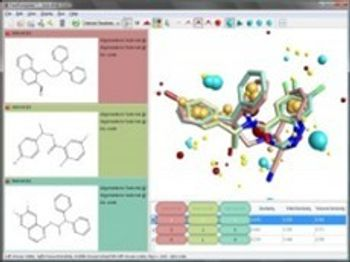 Bringing Science to the Fingertips of Computational and Medicinal Chemists
Cresset, innovative provider of software and services for molecule designers launches forgeV10 a powerful computational suite to understand SAR and design. forgeV10 gives computational chemists control and insight into activity data enabling the planning and direction of projects with confidence. ForgeV10 uses the shape and electrostatic character of molecules to create qualitative and quantitative 3D models of activity that are visually stimulating and easy to communicate.
ForgeV10 takes advantage of Cresset's patented ligand comparison method to align, score and compare molecules from a biological view point. Cresset's technology has been tried and tested in hundreds of projects from virtual screening to compound design. ForgeV10 is used to: decipher complex SAR and communicate the results; design better molecules based on predictions which can be trusted; prepare detailed pharmacophores; virtually screen 10,000 compounds on the desktop; and generate ADME and off-target activity profiles. The powerful capabilities afforded the user by forgeV10 are available through locally installed software or through Cresset Consultancy Services.
Meeting the needs of computational and medicinal chemists, Cresset's new suite of next generation chemistry software comprises: forgeV10 a powerful computational suite to understand SAR and design; torchV10 an intuitive design and 3D SAR tool for medicinal chemists; torchV10lite a free 3D molecule viewing, editing and drawing tool; blazeV10 an amazing ligand based virtual screening tool; sparkV10 an exciting and powerful way of generating novel and diverse structures.
Cresset CEO, Dr Robert Scoffin said, "We are excitedto bring to market these powerful tools to help companies maximize the potential of their projects. Some of the applications have simply been renamed but others have changed significantly and now include exciting new features. The release of forgeV10 as the lead off application in the Cresset pro v10 suite is a milestone in the provision of excellence in computational chemistry software."
Scientists interested in Cresset's next generation software can download free demos from the company's website.