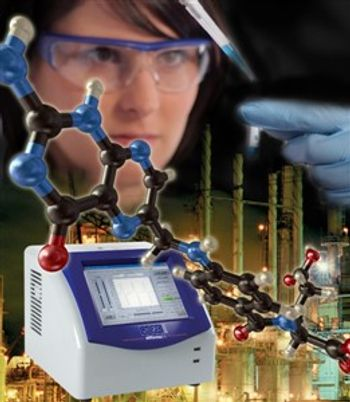 Oxford Instruments, the supplier of Magnetic Resonance solutions for QA laboratories in the food, agricultural, healthcare, polymer, and energy sectors, will present their latest benchtop EMR and NMR systems at ACHEMA 2012.
AffirmoEX™ is an EMR (EPR/ESR) analyser providing free radical and transition metal oxidation state information. Electron Magnetic Resonance (EMR) is a unique technique in making these important measurements in the world of chemistry. AffirmoEX uses the latest magnetic materials coupled to RF electronics developed for cell phones to provide a small footprint, low cost system which is straightforward to use with no cumbersome cooling requirements.

MQC is a Benchtop NMR analyser which offers fast, easy quality control measurements. The MQC has a small benchtop footprint; modular design for easy serviceability; upgradeable firmware and software self-diagnostics to aid servicing. The MQC uses Oxford Instruments' acclaimed MultiQuant and EasyCal software packages, allowing simple calibration and measurement of up to four constituents in samples.

Having successfully shown its range of benchtop instrumentation at Pittcon and Analytica, Oxford Instruments' Product Marketing Manager, John Paul Cerroti, comments, "Attending ACHEMA allows us to reach one of the largest audiences of chemical engineering and process industry specialists and we are looking forward to meeting and learning about the latest requirements for their laboratories."

Visitors are invited to come and learn about the latest applications for industry and research where Oxford Instruments' experience in providing applications-led solutions keeps them at the forefront of quality control benchtop instrumentation suppliers. Hall 4.2, Stand N81.