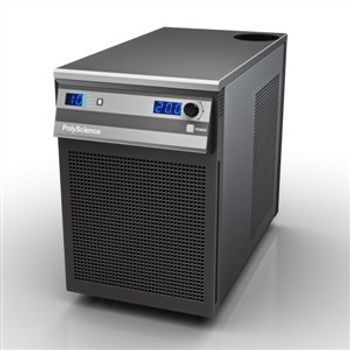 Six new 3/4 and 1 HP chillers featuring WhisperCool™ Environmental Control Technology are now available from PolyScience. Capable of delivering up to 2900 watts of cooling at 20°C, 6000 Series portable chillers with this patent-pending system are up to 25% quieter than comparable models and have part-load noise levels below that of conversational speech. WhisperCool technology also optimizes compressor and evaporator performance, decreasing overall energy consumption and prolonging compressor life.
PolyScience 6000 Series Chillers are capable of maintaining process temperatures from -10° to +40°C with ±0.1°C stability. A heater option is also available that extends cooling temperature to +50°C and provides the ability to apply heat up to 70°C, making them ideal for use with equipment such as lasers that must be brought to a temperature above ambient before operation can begin.
6000 Series Chillers are available with turbine, positive displacement, or centrifugal pumps. Other standard features include extra-large temperature and pressure/flow rate digital readouts, one-touch temperature control, and remote temperature tracking/control capability as well as integral temperature, pressure, and flow alarms.