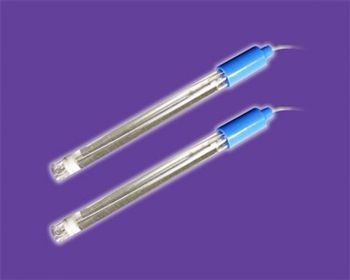 Ideal for General Purpose Lab Applications, Pools and Spas and More
Laboratory and sampling technicians in search of a lower cost alternative to epoxy body electrodes will find that the new S150C and S151C-ORP Polycarbonate Body 12mm pH/ORP Electrodes from Sensorex offer a rugged and cost effective pH and ORP measurement solution.
The versatile new S150C and S151C-ORP 12mm Electrodes can be used with any pH or ORP meter and feature durable polycarbonate body construction. User-friendly and maintenance free, they are shipped in a soaker bottle for immediate use and feature a gel-filled sealed reference. The S150C and S151C-ORP Electrodes feature Sensorex's newly designed tip, which offers pH bulb and ORP platinum protection while maintaining optimum flow through the slots in the body.
The highly accurate S150C Electrode features a measurement range of 0-14 pH (0-12.3 pH without Na+ error), and the S151C-ORP Electrode offers a measurement range ±1999mV for ORP. It offers a rapid pH response speed of >90% in 1 second. The electrode operates up to a maximum temperature of 140°F (60°C) and up to a maximum pressure of 50 psig.
Designed for long life with no maintenance, the S150C and S151C-ORP Electrodes offer wetted materials constructed from polycarbonate, silicone, pH glass or platinum. The sensors come with a standard 30-inch cable and BNC connector (US Std. and DIN available at additional cost). Both electrode models are RoHS compliant, built using lead-free glass and lead-free solder. Standard sensor versions are supplied in a clear polycarbonate body with black body versions available upon request in OEM quantities.