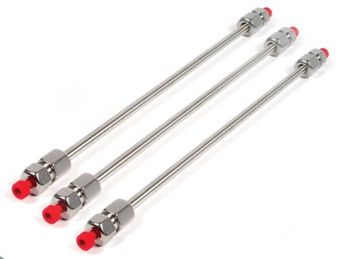 Phenomenex Inc., a global leader in the research and manufacture of advanced technologies for the separation sciences, introduces Yarra™ – a new family of aqueous size exclusion chromatography (SEC) columns for biomolecule analysis. With years of R&D behind the product technology, Yarra columns are engineered to provide efficiency increases of up to 70 percent and much higher resolving power than other media. Yarra columns, offered in three phases with 3-micron particles, are ideal for the separation of small to large proteins and peptides, as well as biological therapeutics and biosimilars. Phenomenex proprietary hydrophilic surface chemistry ensures high resolution and minimal absorption of proteins for accurate quantitation. Yarra columns are guaranteed to deliver results that are similar to or better than other columns.
"We have worked with beta testers all over the globe and the feedback is overwhelmingly positive," said Kari Carlson Kelly, brand manager for Phenomenex. "Many of these users are already transferring their methods to Yarra."
Kieran Curley of Mannkind Corporation (Danbury, CT) is one of the early users of Yarra. "I was very impressed with the Yarra SEC-3000 300 x 7.8 mm column. It provided excellent resolution between the monomer and HMWP peaks, which allowed for consistent integration. The peak shape was greatly improved for all sample components," he said. "We immediately revised our test method to include the Yarra SEC-3000 column."
Yarra columns are highly reproducible, column-to-column and batch-to-batch, and Phenomenex's superior packing technology provides longer column life for time and money savings. The lifetime of Yarra columns can be further extended with the SecurityGuard™ column protection system. Phenomenex offers complete online application and method development and optimization support for the new product.