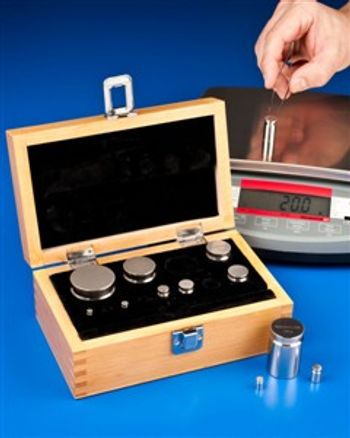 An ASTM Class 6 weight set that simplifies daily quality control checks for balances and scales and calibration before procedures is available from Alliance Scale, Inc. of Canton, Massachusetts.
Alliance/Ohaus ASTM Class 6 Weight Sets feature 12 stainless steel weights that come cradled in foam, inside a wooden box, and include tweezers for proper handling without touching. Allowing users to perform daily quality control checks on balances and scales or before procedures, each of these balance calibration weights meets Class 6 adjustment tolerances.
Available in nine variations including 50g x 10mg, 500g x 1g, 2000g x 1g, and several other scale calibration sizes in between, Alliance/Ohaus ASTM Class 6 Weight Sets are made from stainless steel, are lead-free and clean. Typical applications include commercial, educational, food, medical, laboratory, and pharmaceutical daily QC calibration.