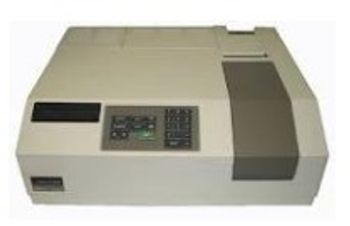 UV-VIS spectroscopy is an analytical technique that is widely used in all types of laboratories. By measuring the absorbance of molecules within the ultraviolet and visible light spectrum (UV-VIS), the UV-VIS spectrophotometer has been proven to be an indispensible tool for the measuring of analyte concentrations. As such, purchasing the right UV-VIS spectrophotometer should be a priority for the majority of lab managers.
Whether single-beam, dual-beam, handheld or array-based, the many different models to choose from make purchasing a UV-VIS spectrophotometer a daunting task. Still, the research necessary in purchasing the right UV-VIS spectrophotometer for you may be more than worth it. A recent survey conducted by Lab Manager Magazine revealed that 32% of respondents used their UV-VIS spectrophotometers several times each day and another 37% of respondents used theirs several times each week.
Featured Product by PerkinElmer
18-Gauge grade 304 stainless steel top with a number 4 brushed finish. Over solid particleboard for strength.
So, what should you be looking for when purchasing a new UV-VIS spectrophotometer? According to the same respondents from the survey mentioned above; 'ease of maintenance/low operating costs', 'excellent reproducibility', 'ease of use' and 'better sensitivity/resolution' were among the most important factors/features to look for when purchasing a UV-VIS spectrophotometer.
Click here to see the results to the entire survey!
Featured UV-VIS Spectrophotometer Question
Posted By: nstrand
Message: I ran a wavelength, bandwidth, and drift check today by following the manual. What do the numbers mean and in what range should the numbers be in. I ran the wave and band at 656.1 and the drift at 656.2
Thank-you
Click here if you have the answer!
Look for these symbols
,
,
to Join our community forums and bench your favorite equipment, manufacturers, and categories to receive all the latest updates!
James Vandal
Product Research Coordinator
LabX Media Group
jvandal@labx.com