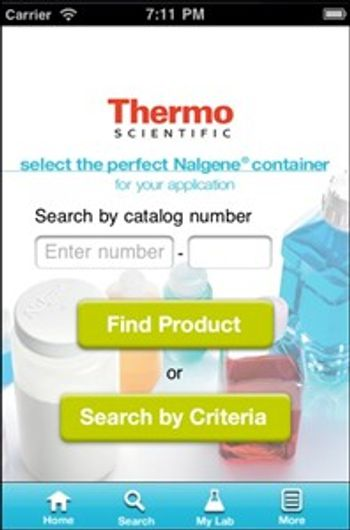 Users Choose the Perfect Thermo Scientific Nalgene Container for Their Lab Needs
Thermo Fisher Scientific Inc., the world leader in serving science, has created a free iPhone and Android app for the selection of Thermo Scientific Nalgene bottles, carboys and vials. Based on their specific laboratory needs, users simply insert a Nalgene® catalog number or search terms and the intuitive app recommends the most appropriate container from our extensive inventory of almost 700 choices. Results are based on the specific properties for chemical resistance, autoclavability, inertness, temperature tolerance and a host of other parameters and certifications for the customers' individual lab activity.
To further refine product recommendations, users can change search criteria and view technical drawings and dimensional outputs to assess product suitability before purchase. Results can be saved for further study or sent to an email address.
For more than 50 years, Nalgene bottles have set the standard for quality and superior performance and continue to prove that not all containers are created equal. Each Nalgene bottle comes with a leak-proof guarantee to protect valuable liquids. Sizes range from 4 mL to 50 L and small quantity to bulk packs, so scale-up can occur without the need to revalidate materials as projects progress from research into production. Nalgene bottles and containers are available in a wide range of certified materialsfor laboratory, food and pharmaceutical use.
To download the free Thermo Scientific Nalgene bottles and carboys app, go to the iTunes® store or Android Market and search for Nalgene Bottles. Visit www.thermoscientific.com/nalgenecontainers for more information or to try our Bottles and Carboys selection guide before you download.