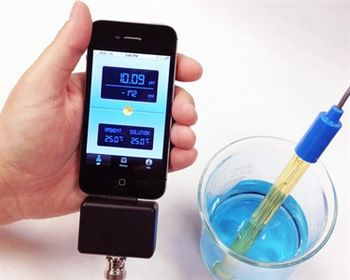 Scientists, engineers, educators and technicians out in the field, in the lab or around the plant will find the new innovative Model PH-1 Meter Application Accessory for the iPhone® or iPod® available from Sensorex measures pH accurately, presents the data in an easy-to-read format and supports email transmission of critical readings.
Simply put—there's never been a more intelligent, easier way to measure, apply and share pH data for scientific, laboratory and industrial process control purposes. First, users simply plug in the PH-1 accessory into an iPhone or iPod and follow the on screen instructions to download the free application from Apple® App Store. Next, users connect the PH-1 module to the sensor and the application provides a real-time display of pH, millivolts, ambient temperature and solution temperature.
In environmental testing and monitoring, the PH-1 meter accessory when used with a GPS-enabled device features a time/date/location stamp. It will record where and when the measurements were taken. Results can be grouped by location or date, and emailed to a central records office in .csv file format (Microsoft Excel® compatible). Using the PH-1 meter accessory eliminates the chances of transcription errors and improves efficiency.
For industrial processes and plants, the PH-1 meter accessory is suitable for service in easy-to-reach locations where pH measurements are routinely performed or can be taken to other distant locations where fixed instruments are unnecessary or too costly. By recording the pH value with a time stamp and location, the PH-1 meter accessory eliminates any chance of mistakes when recording readings. It also works with location-aware devices to log the coordinates where readings were taken for analysis and auditing purposes.
Ideal for the classroom or educational field trips, the PH-1 meter application makes it fun to measure and record pH values. It is an excellent tool for teaching the chemistry of acids/bases and introductory electrochemistry. Students can install the app on their own iPod or iPhone, and share a single sensor for experiments. The app will also run on an iPad® with optimized approved software due out in late July.
The PH-1 meter accessory is designed for use with the Sensorex Model S200C/BNC combination pH electrode or the Sensorex Model S293/30K/BNC/2.5 three-in-one pH/reference/temperature electrode. The pH electrode measures over a 0-14 pH range with accuracy to ±0.01 pH. The voltage measurement range is -1250 to 1250 mV with accuracy to ±1 mV. The solution temperature range is 0-100°C with accuracy to ±0.1°C. Ambient temperature is -40 to 70°C with accuracy to ±2°C.
The PH-1 meter accessory and pH electrodes are sold separately or as a kit by Sensorex and do not include an iPhone or iPod. Four different pH electrode sensor kit options are available with choices of sensor electrodes, connectors and cables.