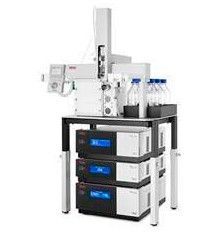 UltiMate 3000 XRS system offers new sampling and detection capabilities with quaternary mobile phase gradients for improved flexibility in pharmaceutical, biopharmaceutical, environmental, food safety and chemical analysis applications
Thermo Fisher Scientific Inc., the world leader in serving science, today introduced the Thermo Scientific UltiMate 3000 XRS UHPLC system. This newest member of the Thermo Scientific UltiMate 3000 UHPLC+ family offers new UHPLC capabilities in solvent delivery and sample handling with a wide range of detector options for high-throughput laboratories.
With the lowest gradient delay volume and unmatched flow precision and accuracy amongst all leading quaternary UHPLC platforms, the instrument is designed to support very robust chromatographic runs with column pressures up to 1,250 bar (18,130 psi). The UltiMate 3000 XRS system delivers exceptional productivity when coupled to Thermo Scientific mass spectrometers. An innovative new flow cell design, combined with Viper connection technology, helps the UltiMate 3000 XRS system to reduce resolution loss and peak dispersion while offering ease-of-use and performance. As a stand-alone instrument, the UltiMate 3000 XRS is designed to set new benchmarks for high resolution chromatography, unique and complimentary detection technologies, flexibility in its configuration and user accessibility for pharmaceutical, biopharmaceutical, environmental, food safety and chemical laboratories.
The company is showcasing the new UltiMate 3000 XRS system at HPLC 2012 booth 121 in Anaheim, USA June 12 – 16.
"Our UltiMate 3000 UHPLC+ system platform demonstrates our continuous commitment to provide the most productive and most flexible UHPLC and HPLC solutions," said Wulff Niedner, director of HPLC product marketing at Thermo Fisher Scientific. "Scientists in all industries are asked to reduce operational costs as well as shorten research and development times. We at Thermo Scientific consider the Ultimate 3000 XRS a new benchmark regarding performance, productivity, application and detection capabilities, maximizing profitability and competiveness for our customers."