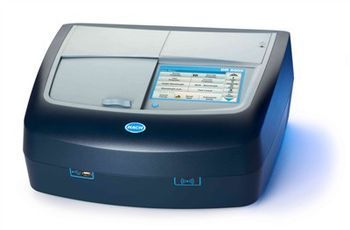 Hach Company has developed the latest innovation in lab testing, the DR 6000™ UV-Vis spectrophotometer. The DR 6000 is equipped with RFID technology, integrated QA software, more than 250 testing methods and guided procedures, making it one of the most advanced spectrophotometers available.
"Our goal when designing this device was to create a system that could fulfill any water testing needs using one spectrophotomer," Thom Voll, Hach's Global Business Unit Director of Laboratory Systems said. "We've simplified testing procedures by providing step-by-step guidance and incorporating RFID technology to track samples. Hach has created the DR 6000 to empower labs and give them confidence in their results."
Reliable and traceable results are some of the greatest benefits the DR 6000 can provide. This instrument is programmed to take absorbance readings of a single sample at different wavelengths or over a specific period of time, and allows high speed wavelength scanning across the UV and visible spectrum.
The instrument is also equipped with RFID technology, which not only helps operators track their samples, it helps them manage their labs. When the DR 6000 is paired with Hach's TNTplus® reagent vials, it detects and alerts users to expired reagents, ensuring chemistries are used within their shelf lives. In cases where changes to a stored program are required to use a new lot of chemistry, it prompts the user to perform the update. The RFID technology allows the DR 6000 to update the program's calibration factors automatically when the TNTplus reagent box is placed near the instrument. Results are analyzed and outliers – caused by scratched, flawed or dirty glassware – are eliminated.
Other testing errors are eliminated by following the on-screen guided procedures, which are available for the most common of the 250 pre-programmed methods. With optional accessories allowing for high volume testing and integrated QA software for scheduling, documenting and interpreting quality control measurements, this instrument is optimized for a wide range of water testing needs.
The DR 6000 is an all-in-one spectrophotometer that can handle the most comprehensive water testing needs.