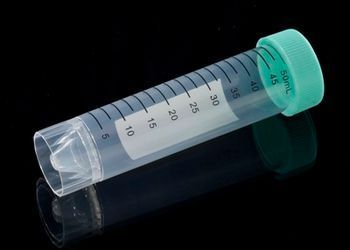 Porvair Sciences 50mL clear polypropylene (PP) self-standing centrifuge tubes combine ease of use, chemical resistance and high speed tolerance.

The circular collar around the base allows the centrifuge tube to stand up on a bench without further support. A rigid, high quality screw cap ensures an airtight seal that virtually eliminates all leakage when used under recommended conditions. Each centrifuge tube features black printed graduations clearly marked for ease of use.

Affordably priced - Porvair self-standing centrifuge tubes can be spun up to 9400G and will withstand repeated autoclaving at 121°C or long term storage at -20°C. For easy identification each centrifuge tube has a large white solvent resistant writing area. Porvair self-standing centrifuge tubes are supplied in packs of 500 with inner bags of 50 either natural or sterile.

Production of Porvair self-standing centrifuge tubes is carried out in a Class 10000 / ISO Class VII clean environment to ISO 9001:2008 and EN ISO 13485:2003 manufacturing standards to ensure all products are free from DNA/RNA, DNase/RNase and Pyrogen contamination.