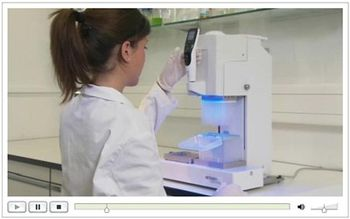 An informative new video demonstrates many of the features and benefits of the INTEGRA VIAFLO 96 that have enabled labs around the world to accelerate their workflows.

The INTEGRA VIAFLO 96 is a novel handheld 96-channel electronic pipette that has struck a chord with scientists looking for fast, precise and easy simultaneous transfer of 96 samples from microplates without the cost of a fully automated system. The VIAFLO 96 was designed to handle just like a standard handheld pipette - a fact borne out by consistent end user feedback that no special skills or training are required to operate it. Users immediately benefit from the increased productivity delivered by their VIAFLO 96.

Fast replication or reformatting of 96 and 384 well plates and high precision transferring of reagents, compounds and solutions to or from microplates is now as easy as pipetting with a standard electronic pipette into a single tube. Four pipetting heads with pipetting volumes up to 12.5 µl, 125 µl, 300 µl or 1250 µl are available for the VIAFLO 96. These pipetting heads are interchangeable within seconds enabling optimal matching of the available volume range to the application performed.