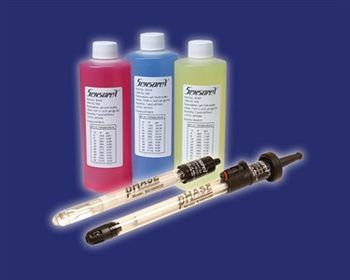 Ideal for Quality Control and R&D Use for Biological Samples & Proteins, Heavy Metals, Paint, Dairy Products, Food/Beverage, Photography and More
Laboratory and sampling technicians will find that precision pHASE pH Electrodes from Sensorex provide highly accurate and stable pH measurement changes in dynamic process environments under wide ranging variable temperature conditions.
Unlike standard pH electrodes, research grade pHASE pH Electrodes are specially designed for variable temperature operation process testing and provide fast, accurate and stable pH measurements even with large temperature changes. This makes pHASE electrodes the ideal choice for quality control and R&D use in a wide variety of applications including measurement of biological samples and proteins, heavy metals, paint, dairy products, food/beverage and photography.
pHASE pH electrodes are available in two designs to best suit user needs: the cost-saving, user-friendly sealed design and the Rapid-Renew refillable design, ideal for dirty samples. The easy to use and low maintenance sealed design is the most economical, featuring large area, porous polyethylene junctions to resist clogging. They are useful for a broad range of applications.
Refillable Rapid-Renew designs are ideal for dirty samples or other samples that cause junction fouling. The push of a spring loaded knob opens the electrode's sleeve junction, instantly providing a fresh junction. The Twist-Seal refill hole's leak-tight O-ring seat can be opened or closed with a quarter turn of the collar, eliminating the need for awkward rubber sleeves and screwed plugs.
pHASE Electrodes are offered with either epoxy or glass bodies. Epoxy bodies offer maximum ruggedness and good chemical resistance. They are supplied with removable bulb guards to protect the pH bulb from breakage which can quickly be removed for cleaning. pHASE electrodes with epoxy bodies feature bulb guards; Glass bodies feature - spherical bulbs, useful for a broad range of relatively clean samples.
Breakage-resistant flat surface designs also have epoxy bodies without the need for bulb guards. They are designed to make excellent contact with viscous materials and are recommended for use with slurries. All pHASE electrodes are combination types with built-in double junction references, which prevent the electrode's silver ions from contacting product samples.
Fast-response pHASE electrodes are stable to 0.01 pH within 30 seconds when exposed to a temperature change of 35-75°C. They are accurate to 0.04 pH at a temperature range of 0-100°C. Highly stable, pHASE electrodes offer 0.005 pH or less drift per 24 hours.
Sensorex manufactures a complete line of pH buffers, ideal for use with pHASE pH Electrodes. They are available as either a dry powder, ready to mix with 100 mL of DI water or as pre-mixed, ready-to-use color coded liquids—blue for 10 pH, red for 4.01 pH and yellow for 7 pH. Buffer powder packets are available for pH 4, pH 7 and pH 10 buffers and as 90mV and 260mV ORP standards. Sensorex buffers remain stable over long periods of time and accurate to within ±0.01 pH units at 25°C.