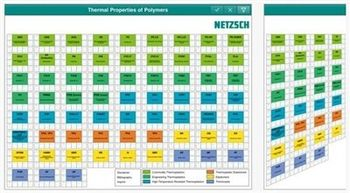 It is our pleasure to announce the release of the first NETZSCH App available for iPhone, iPad and Android Smartphones and Tablets. This App offers all the important characteristics of polymer materials and even more than that. In order to facilitate your work the "Thermal Properties of Polymers App" allows you to quickly filter amongst the following polymer categories:
Commodity Thermoplastics
Engineering Thermoplastics
High-Temperature Resistant Thermoplastics
Thermoplastic Elastomers
Elastomers
Thermosets
Additionally you can accelerate your search by specifying the values of the measurement parameters of your interest:
Glass Transition Temperature
Melting Temperature
Melting Enthalpy
Decomposition Temperature
Young's Modulus
Coefficient of Linear Thermal Expansion
Specific Heat
Thermal Conductivity
Density
Apart from defining these parameters as such, the App informs you which methods and what instruments are most apt to fulfill your specific needs. It further leads you to the respective instrument pages where you can find additional information.

The App is available free of charge on Apple's App Store or on Google's Play. There are two versions available. One is optimized for iPad and Tablets, the other one is perfect for smartphones but can be used as well on tablets.