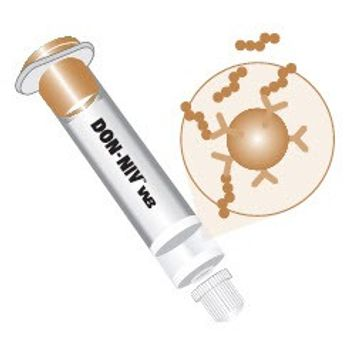 Product Can Detect Deoxynivalenol (DON) and Nivalenol (NIV) in a Single Run
Waters Corporation today announced that VICAM®, a Waters® Business, introduced the DON-NIV™ WB Immunoaffinity (IA) column, the only IA column on the market to simultaneously screen for deoxynivalenol (DON) and nivalenol (NIV). Coupled with liquid chromatography analysis, the DON-NIV WB column provides over 90% recovery of both DON and NIV and doubles the productivity of commercial, government, and food safety research laboratories.
"The new DON-NIV WB column provides rapid and simple sample preparation using the superior strength of monoclonal antibody technology. DON and NIV are analyzed simultaneously in the same sample, facilitating efficient research and more effective risk management for industry," said Dr. Stephen Powers, Head of Research & Development for VICAM.
"DON was the first trichothecene mycotoxin to be regulated by many countries. Increased interest in related toxins such as NIV drives the need for improved technologies," comments Marjorie Radlo, General Manager, Director of Operations, for VICAM.
DON and NIV are trichothecene mycotoxins produced by fusarium molds. Animal feeds which are contaminated with fusarium toxins cause feed refusal, weight loss, vomiting and diarrhea – resulting in significant health, production, and economic risks. NIV has also been linked to lung and brain hemorrhage and bone marrow injury through disruption of DNA and protein synthesis.
The DON-NIV WB column meets all of the stringent European Union regulations for the recovery of DON in food and feeds which specify 0.2 ppm for infant foods, 0.5 ppm for breads, pastries, biscuits and cereals, and 1.75 ppm for wheat, oats, and maize. The US Food and Drug Administration advise no more than 1 ppm DON in wheat products intended for human consumption and specific levels for feeding of livestock animals. While there are currently no officially set detection limits for NIV, growing research on the co-occurrence of toxins and the potential for amplified toxicity is driving the need for increased awareness and potential regulation.
This product will be revealed at the MycoRed North America Conference in Ottowa, Canada on June 25, 2012. Data will be discussed at a presentation given by Dr. Michelangelo Pascale, Institute of Sciences of Food Production, National Research Council, Italy.
VICAM offers detection systems for single and multiple mycotoxin quantification both onsite and in-laboratory screening. Mycotoxins are naturally occurring chemical byproducts of ubiquitous mold species which are natural inhabitants of crop soils. Severe rain or drought can encourage mycotoxin production and, once released, mycotoxins are difficult to manage and virtually impossible to destroy. The USDA, FDA, EU, and other international regulatory standards impose specific guidelines for acceptable levels for various mycotoxins, such as aflatoxins, deoxynivalenol (DON), ochratoxin A, fumonisin, zearalenone, and T-2/HT-2. Producers and exporters use onsite testing to ensure regulatory compliance and to protect human and animal health.