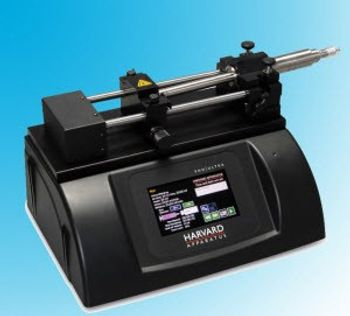 Harvard Apparatus, the world leader in syringe pumps, just released the NEW PHD ULTRA™ CP Syringe Pump. The first of its kind pump to infuse fluids under Constant Pressure by automatically adjusting the flow.
A Constant Pressure Syringe Pump Technology Breakthrough, the PHD ULTRA™ CP couples to virtually any commercially available pressure transducer/amplifier with a 0-10V output to deliver fluids with an applied force of up to 1,000 lbs with <±2% pressure accuracy.

The PHD ULTRA™ CP Family of Syringe Pumps feature:
Applied forces between 75 and 1,000 lbs
Versatility – Stand Alone, Remote and High Pressure models available
Easy-to-use touch screen LCD with icon interface
Advanced programming
Effortless transfer of methods to other pumps and/or download from a PC
Flexibility in connectivity with a USB serial port, RS-232 (RJ-11), RS-485 ports for daisy chaining and an I/O & TTL
Full range of accessories – multi-syringe racks, syringe heaters, in-line heaters and coolers, microfluidic circuits, connectors, tubing, syringes and more
Peace of mind - 2-year warranty and upgrade options available
World-renowned for accuracy and reproducibility, all PHD ULTRA™ CP syringe pumps are infuse/withdraw models and are offered in a variety of configurations to meet and exceed your research needs.