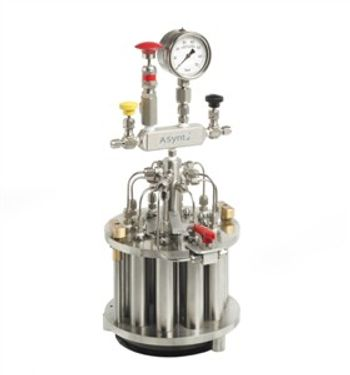 Designed to be used in conjunction with a simple benchtop magnetic stirrer or stirrer/hotplate the Asynt Parallel High Pressure Reactor is a cost effective lightweight unit suitable for stirred or non-stirred applications.

Proven in applications including homogeneous and heterogeneous catalysis, hydrogenation, corrosion testing, parallel synthesis and screening the Asynt Parallel High Pressure Reactor can be purpose configured to optimally suit your application.

Manufactured in 316 stainless steel the standard Asynt Parallel High Pressure Reactor offers the user - 10 x 30 reaction vessels that can be configured to operate up to 300°C and 100 Bar pressure. However systems can be built to accommodate reaction volumes from 5ml to 50 litres and constructed in a wide range of materials including Hastelloy, Inconel, Titanium and alloy steels to provide an optimised solution for almost any application. Designed by chemists for chemists each Asynt Parallel High Pressure Reactor is extremely easy to set-up (one simple closure) and has a fail-safe mechanism to protect the operator.

All Asynt high pressure reactors conform to a wide range of national and international safety standards, including the Pressure Equipment Directive 97/23/EC (PED), Pressure Systems Safety Regulations 2000 (PSSR) and British Compressed Gases CP4 Rev2 (1998).